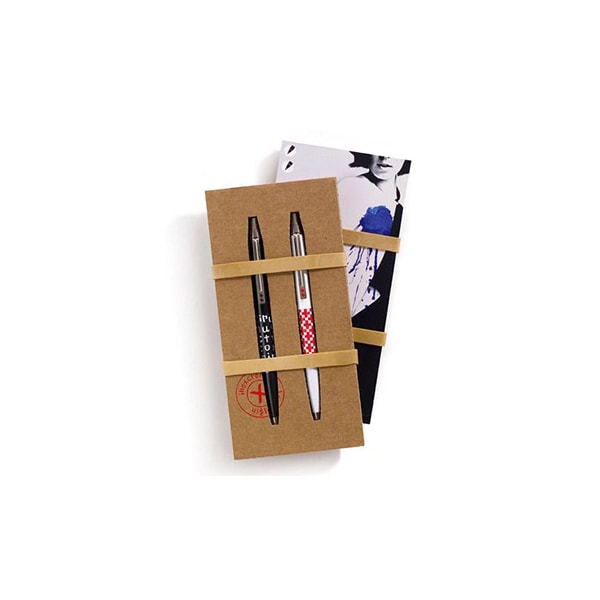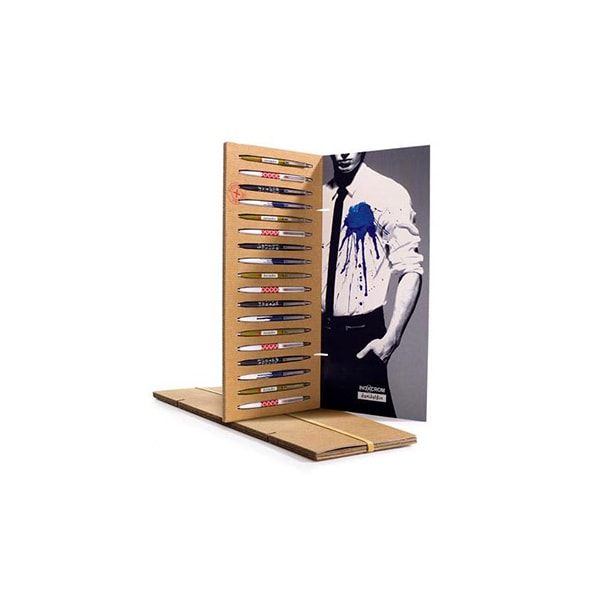 O-14 Pen Packaging Box
Pen Packaging Box
Model: O-14
Material: B-wave Corrugate Paper + 120g Double-Coated Paper + Rubber
Surface Treatment: 4-Color Printing + Glossy Lamination
MOQ: 3000 Pieces
PRODUCT Description
Product Feature
1. Pen packaging box, the pen series whole set packaging design. Can also be used as color pen or pencil packaging design
2. Concise style of design. There are two side of the package. Pens are put on one side and the product image poster is sticked on the other side. It will be fantastic to put these pacakging boxes on the window of boutiques for showing.
3. If customer only need to buy two or three pens, there are also two-pen size or three-pen size with same design but smaller. The pens on the box is fixed by the rubber. It is convenient for customer to take away and they can use it as a pen box as well. This knid of usaful and simple design packaging box is very suitable for those city white-collar.
Tips For Choosing a Pen Box Manufacturer
Whether you own a business selling pens, a business manufacturing them, or own your own artisans, it is important to find the right pen box manufacturer. In this article, I will discuss why it is important to seek out the best pen box manufacturer possible, and what to look for in this process. First of all, when looking for a pen box manufacturer, you want to find one that is a true manufacturer. A true manufacturer sells their merchandise at a wholesale price. They do not try to make a profit on the products they sell, and their quality control standards are impeccable.
The second thing that you want to look for is whether or not they are offering customization. If the pen box manufacturer you are considering uses generic, unappealing cardboard for their boxes, then you will definitely want to find a more professional company. There are a number of great companies online that do not use cardboard. Instead, they provide clients with high quality materials and innovative designs to create their own individual pen box manufacturer boxes.
In addition to using good cardboard, they also make their boxes from various materials, including wood and metal. Wood and metal boxes offer a lot more design options. Not only can you choose the thickness of the box, but you can choose the colour of the box as well. Not every pen box manufacturer makes boxes in every colour, but some do, so it may be worth your while to find this out before committing to a company.
Something else that you want to make sure the pen box manufacturer you are researching on offers is great customer service. You want to be able to send your products back and get a refund if you are not satisfied. This will ensure that you always receive the highest quality service from the company you choose.
Something else that will help you decide on which box manufacturer to use is how long the company has been in business. It might seem like an odd point to bring up, but it really is an important one. Pen companies have to keep manufacturing their products in order to keep making money. If a company has been producing pens for a while and is not very successful, then you might think that their next pens won't be as good as the last ones. The company might also be less likely to try to take shortcuts with your goods, meaning that you receive the best possible item for your money.
You also want to make sure that the pen box manufacturer you choose is very familiar with their product. For example, some pen box manufacturers will only work with one brand, so they will make sure that your boxes are made to the highest standards. This means that you will get the same excellent service that you would expect from the brand you prefer. This will make your pen storing and protection experience that much better, ensuring that your pen remains safely stored when it is not in use.
Size is another factor to look at when you are choosing a pen box manufacturer. Think about how much room you have to store your pens and how secure you want your items to be. Many box manufacturers can offer you different sized boxes to ensure that your pen and associated items to go with the rest of your equipment, or that you can simply purchase a larger box if you need it. The size of the box you choose will depend heavily on how many pens you have to put into it, as well as how secure you think your items will be when they are inside.
A pen packaging box manufacturer should be able to help you choose the right style of box for your pen. Most companies are happy to assist you and answer any questions that you might have. Even if you do end up making your purchasing decision over the phone, it's still nice to have a contact line that you can reach in case there are any issues during the process. Companies who pride themselves on customer service should have no problem answering any of your questions.
CONTACT US


Watson Printing and Packaging CO,. Ltd.
We are always providing our customers with reliable products and considerate services.
If you would like to keep touch with us directly, please go to contact us