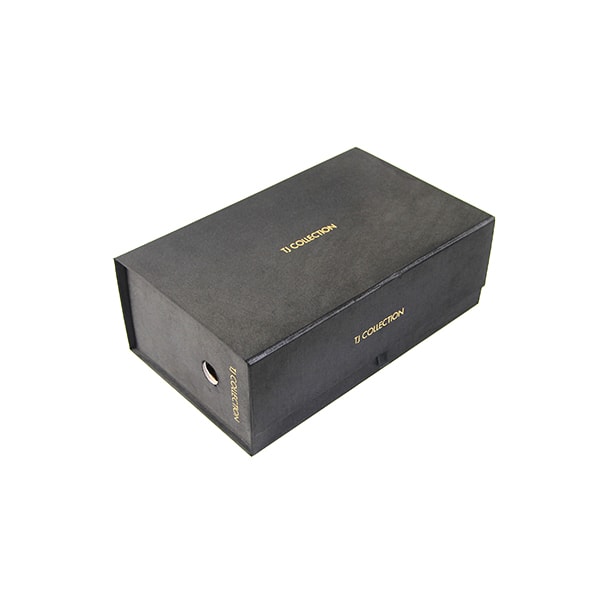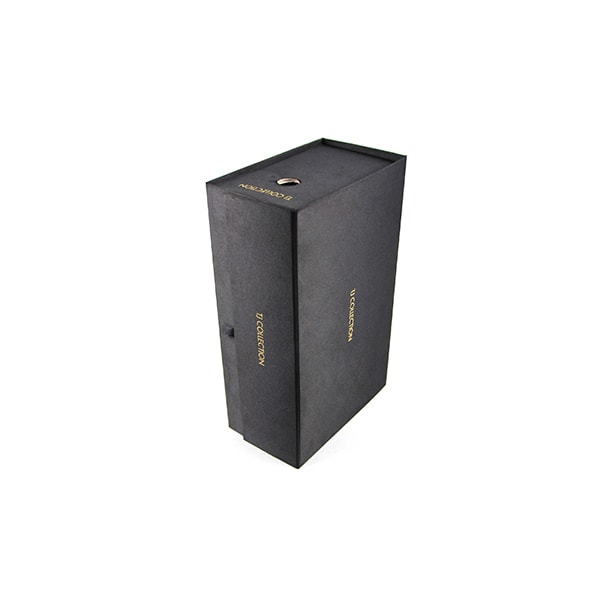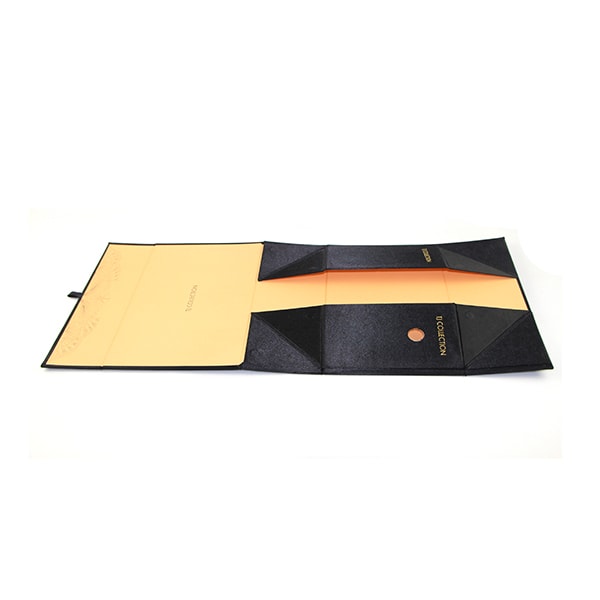 S-7 Shoe Packaging Box
Shoe Packaging Box
Model: S-7
Material: 1300g Greayboard + Fabrics
Surface Treatment: Golden Stamping
Size: 32*20*12cm
MOQ: 3000 Pieces
PRODUCT Description
Product Feature
1. Shoe packaging box, can also be used as men shoe or belt packaging design. Appropriate for those noble and high-class product packaging design.
2. Shaped box can be foldable or flat delivery.
3. One-piece box design.
4. The main color of the box is black and the inside box is orange. One deep color and one light color contrast to create vision impaction. The box is covered by fabric to show the high-class feature of the product. One-piece design is easy for delivery and inventive design always can catch people's eye.
5. Custom printing picture and design.
Product Custom
1. All material are normal material and the box has few hand-made work to do. The estimated production time of 10000 boxes is 8 days.
2. Be noticed to protect the box from scratch, be away from dust and keep the box clean and dry.
3. Standard carton box packaging. Around 300 boxes in one carton box.
Product Knowledge
Many new products these days come with a kit that consists of flat pack shoe boxes. These useful storage boxes can be very convenient and can help you store away your shoes in a much more organized way. If you have a normal closet and have boxes stacked up on top of each other, you may find it difficult to find your shoes when you need them. One of the best ways to solve this problem is to purchase a storage box that attaches to the ceiling. It looks very professional and makes finding your shoes in no time.
These boxes work in a very simple way. When you open one of them, all the items inside are shown to you. You then decide what you want to do with those items and where you want to place them. Most boxes are made from either wood or cardboard, and most people choose to buy storage boxes that are made from a combination of these two materials.
There are many different styles and colors available when it comes to these boxes, so you can choose the right one for your needs. The nice thing about these boxes is that you can use them in any type of environment - in your home, office, or even in the car. Because they attach to the ceiling, you won't have to worry about them getting accidentally knocked off of the shelf or getting squashed when you open the box. You will also find them very beneficial for storing shoes that you don't necessarily wear everyday.
The prices on these flat pack shoe boxes vary greatly depending on the materials that they are made out of. For example, there are some that are made from wood and have very nice finishes on them. This means that they are very durable and can help protect your valuable footwear. They also come in many different sizes, so you can also find the ones that are right for your feet.
If you are wondering how these boxes actually work, it's very simple. You simply strap on the shoe section, and the strap will be fastened around your ankle. This ensures that your footwear doesn't slip out of place. Also, there are some that are made from more durable materials that will also keep your shoes from sliding around inside of them. These include rubber and mesh. These will be able to keep your shoes nice and snug without them falling out of place.
Another great thing about flat pack shoe boxes is that they come in a variety of colors. Some are purely black or white, but you will also find them in many different patterns and styles. The great thing about these is that they are very easy to decorate. You can find them with a variety of stickers and other fun things that you can put on them. Also, because these are very inexpensive, they will still allow you to get the storage that you need while not breaking your budget.
Shoe box and shoe bag packing are a specialized job. It involves the proper packing of your items so that they are transported in a safe and effective manner. This task demands expertise, creativity, and adequate knowledge regarding the material, design, and size of the boxes. The packaging of the shoes should be done in such a way that the air ventilation in the box is not compromised. As these boxes are usually heavy, it is important that the lifting capacity is sufficient to carry them.
Shoe production has shifted from manual labor to automation. Advancements in technology have reduced manual labor levels in the shoe industry. The increasing use of machinery in the production lines has made this possible. Various kinds of machines are used to pack different materials into shoe boxes: Cylinder-driven stock-footer machinery, offset printing and die cutting machines, and roller conveyor production lines.
Many companies today make use of off-the-shelf shoe packaging materials to save cost. However, purchasing these boxes from a third-party manufacturer would still allow the company to control the number of boxes manufactured per batch and to specify the thickness, dimensions, and even color of the foam inserts. In addition, companies can request to customize the foam inserts, lining, and closure to best fit their requirements. For example, certain shoe boxes may have a zipper entrance for easy packaging and to protect the shoe from damage during shipping.
Most shoe packaging material boxes are rectangular in shape, because this is the most common and the most economical option available. Some companies choose to go with a brochure-style packaging. In this case, the front flap of the box is folding over in order to create the inside lining. The inside lining is then stapled on top of the foam inserts and edges of the box are rounded to resemble a shoe box. This allows for a smooth opening and closing of the box while still allowing room for inserts.
There are also shoe boxes that are manufactured in a custom size to match individual sizes. Customized boxes come in many shapes and sizes to best fit individual sizes. In addition, some boxes are specifically designed to be opened only upon the request of the customer. These specialty boxes are ideal for those in need of extra space for their shoe storage and for special orders.
Most shoe packaging companies utilize offset printing technology. This type of printing offers affordable and professional printing solutions. Many shoe packaging companies use offset printing because it offers quick delivery and affordable prices. The process of offset printing involves multiple colors being fed into an ink roller gun, which causes the boxes to be quickly made.
When looking for a wholesale shoe box suppliers, it is important to remember that all of the best suppliers offer a number of customization options. For instance, corrugated shoe boxes are commonly offered as tri-fold brochures and tri-fold wallets. By offering unique customization, the wholesale shoe box suppliers can guarantee that their customers will receive exactly what they are looking for. It is also important to remember that all reputable wholesale shoe box suppliers offer free samples, so that new clients can try their packaging system out for themselves.
CONTACT US


Watson Printing and Packaging CO,. Ltd.
We are always providing our customers with reliable products and considerate services.
If you would like to keep touch with us directly, please go to contact us